Video Surveillance
Wireless Video Server
Model: Q-525

A Critical Infrastructure Protection Solution
Airvenue Inc. uses innovative, emerging technologies to implement scalable solutions to critical infrastructure threats. Airvenue Inc. provides solutions to protect utilities, emergency services, transportation systems, dwellings and complexes. The objectives of Airvenue Inc.'s Critical Infrastructure Protection Solutions (CIPS) are detection, preparedness, prevention, protection, response and, when necessary, recovery.

The Wireless Video Server system (WVS) is a key component of any CIPS implementation. WVS is a combination of products and services which enable the design, provisioning, implementation, operation, and maintenance of an integrated network to provide advanced video surveillance. WVS delivers the architectures along with the supporting systems and services necessary for Wide Area / Local Area Network deployment of wireless and wired IP video networks across municipalities, campuses, transportation and other critical infrastructure locations. WVS ensures heightened security through real-time video capture and transmission of high-resolution digital imagery. The system expands your security presence to numerous key locations and events to improve safety by reducing threats.

Capabilities

WVS solutions track activity around selected areas and aid in securing critical infrastructure. They enhance security; improve safety; detect threats and lower crime rates. Typical critical infrastructure targets include:
Municipal Complexes
Transportation centers – Airports, Railroads, Maritime Ports
Bridges / tunnels
Arenas & Convention Centers
Public Events
Power Grids
Water systems / facilities
Benefits
Highly secure – FIPS 140-2 Validated Crypto modules
Lower cost 802.11g wireless bridging / repeater infrastructure
Local 802.11b Wireless LAN coverage for incident responders
Warns of approaching danger
Provides coverage of major events
Tracks threats as they unfold
Efficiently deploys resources to areas of greatest need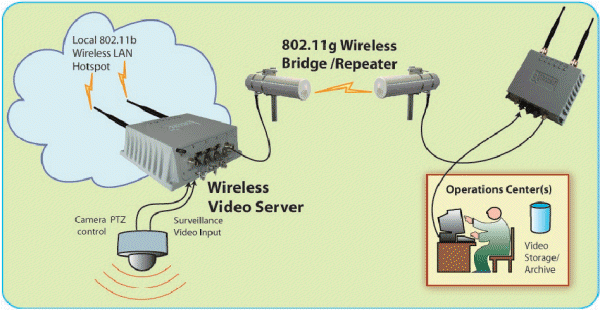 Functionality

A camera is easily connected to the WVS - a mixed network of IEEE 802.11g/b wireless and wired Ethernet connections. The camera can be controlled by a centralized operations staff that remotely controls the camera's Pan/Tilt/Zoom (PTZ) features, views live footage, records every camera for a specified period, reviews recorded footage, and outputs selected segments to digital or analog media. Because the WVS system has dual mode wireless capability (802.11g and 802.11b), local 802.11b 11Mbps wireless hotspots can be enabled around the video server locations. These hotspots serve to provide high speed mobile data access to police, emergency management personnel, and other municipal / government first responders.

The wireless portion of the WVS system meets Department of Defense security requirements with advanced data encryption (AES / 3DES) and uses crypto modules that are FIPS 140-2 Validated™ for sensitive data communications use. The WVS system also supports use of existing Ethernet resources wherever possible to avoid additional build out costs. Because of its wireless bridging capabilities, the WVS system is easily expandable to support future growth without the material, time and costs associated with traditional wired links.

Total Solution Delivery

WVS support services are available and provide the flexibility to meet a myriad of requirements:
Project management and coordination
Network planning, design and integration
Equipment specification & selection
Software customization
Facilities installation
Operations center provisioning
Training
Ongoing maintenance and support
System Features

The WVS system supports most outdoor IP video surveillance cameras. It has analog to digital video conversion capabilities and multiple wireless or wired Ethernet connections.
Network Connectivity
- 802.11g 54Mbs Wireless Bridging / Repeating of video to Operations Centers
- Provides remote Pan-Tilt-Zoom (PTZ) capability over the wireless or wired IP network connections
- Provision for 802.11b 11Mbs Wireless LAN Hotspot in addition to wired Ethernet
- Transport minimum video resolution of 640x480 with 4CIF quality
- Capability to convert and send up to 30 video frames per second
- Able to control a minimum 25x OPTICAL zoom on appropriate cameras
- Wireless camera signals are securely transmitted with FIPS 140-2 Validated AES encryption
- An optimum mix of wireless and wired resources
- Supports all cameras operating at a minimum of 7.5 Frames Per Second
- Termination of the video accomplished at one or more Operations Centers
Housing
- Ruggedized NEMA 4 outdoor housing for 3e-525V system components
- Serial camera connection for PTZ control
- Hardened Video connection (BNC)
Management
- Enables wireless digital transport and subsequent storage at Operations Center
- Provision for optional dynamic key server for increased security
- Wireless connectivity for viewing 1 live camera feed
- Simultaneous use of all functions
- Access user restrictions
- Supports central operation / access of all cameras
- Non-proprietary output format for admissibility in court (JPEG, M-JPEG, NTSC Video, etc.)
- Camera control via 1 serial interface
Multiport Wireless Video Server
Model: Q-528

A Video Surveillance Solution for Critical Infrastructure Protection
The Multiport Wireless Video Server is a hardware platform for video capture and surveillance which is designed to meet the need for advanced security. It fits a smaller footprint than current comparable systems and increases functional reliability.

The heart of the Multiport Wireless Video Server is the three INTEL XSCALE PXA42x processors. These boards meet your toughest performance, QoS and security needs. The PXA42x processor includes a powerful XSCALE core, PCI interface, 10/100 Ethernet MACs and a microcoder engine for encryption (AES and 3DES). The versatile PCI bus supports integration to all types of 802.11 chipsets.

The video encoder board provides five levels of compression and supports motion JPEGs at frame rates of up to 30 frames/second and a resolution of 704 x 480. It can network up to 4 analog cameras. It transforms analog video into high quality digital images for wireless or wired transmission over an intranet or the Internet. It permits users to view live images from any networked computer using a standard Web browser. Use of advanced encryption allows access to viewed images to be restricted to authorized users.

The Multiport Wireless Video Server is housed in a rugged NEMA water-resistant enclosure, increasing flexibility of use and mobility. The external high gain antenna provides an extended range. Its 802.11b capability can also enable a local wireless LAN/hotspot at the enclosure's location and provide first responders with wireless access to critical data. The incorporated access point capability includes power management, accessible remotely through Airvenue Inc.'s RF manager, allowing power adjustment in response to ambient conditions. AC power is provided from a 100-240V AC source. The Multiport Wireless Video Server supports the RF and power requirements of both North America and Europe and will support all Euro and UK standards.





Multiport Wireless Video Server Connectors
Current Features
Four Channel Video Server
NEMA 12/13 Case
WirelessWAN: 802.11b & 802.11g
AES/3DESEncryption
Enables a local 802.11b "hotspot" for incident responders
Advanced Features
Supports IEEE 802.1x
Supports advanced bridging
Specifications

Ports
Video (4x)
WAN (1x)
Serial Port (4x)
Video (4x), BNC composite video input with 75/Hi Z termination
Camera Power (110v/220v AC depending on input power)
Sharing Methods
Protocols
TCP/L2TP
DNS
STP
SNTP
NAT
DHCP
HTTPS
HTML
Static Routing
EAP
FTP
SMTP
NTP
ARP
BOOTP
Firewall (Gateway Mode)
NAT/NAPT
Virtual server
Content filtering (URL filtering)
DMZ
Enable/Disable WAN IP ICMP
Tools and Utilities
Ping utility
Trace route utility
Firmware upgrade via Web
Reboot device
Factory default
LAN Ethernet Setting
Supports 10/100 Mbps full/half duplex auto negotiation
Alarms I/O
PRE/Post Alarm Buffer
Up to 12 MB memory available for pre/post alarm image storage, i.e. approx. 16 minutes of video at one frame/second, CIF resolution, normal compression
Security
User level password protection
Wireless features
Multiple RFs
- 802.11b
- 802.11g
Operation mode
- Access Point
- Gateway
- Bridging/Repeater
Channel number
- Fixed channel
- Automatic channel selection (optimum channel)
AdjustableTx power
Enable/disable broadcast SSID
MAC address filtering
Rogue wireless AP detection
Load balancing of wireless clients
Security
- Non-FIPS
- WEP
- Authentication type: Open system
- Shared key, 64 or 128-bit
- 802.1 x (EAP-MD5, EAP-TLS)
- Key Management
- Key Rotation
- Static AES/3DES
- FIPS 140-2
- Diffie-Hellman Key Exchange
- Authentication type: Open System
- Static AES/3DES encryption
- Dynamic key exchange (Available with Q-030 Security Server option)
Wireless AP and wireless client activities monitoring
- Signal strength
- MAC address listing of wireless clients
Video Frame Rate
Image frame rate: up to 25 (PAL)/30 (NTSC)
Bandwidth control to prevent data saturation on network
Video Compression
Five levels of compression
Motion JPEG
MPEG1
MPEG2
MPEG4
Video Resolution
QCIF: 176 x 112 (NTSC), 176 x 144 (PAL)
CIF: 352 x 240 (NTSC), 352 x 288 (PAL)
4CIF: 704 x 480 (NTSC), 704 x 576 (PAL)
Video Features
Date and time stamp and text overlay
Video Latency
Pan/Tilt/Zoom
Pan/Tilt/Zoom for remote camera control. Support for major manufacturers and protocols including Pelco, Panasonic and Sony
Safety
Power Requirements
Weight
Size
Temperature
0°C ~ 50°C in operating
-40°C ~ 80°C in storage
Humidity
5% ~ 95% (non-condensing)