@RadioTM
IP Radio and Internet Radio


@Radio is a global service designed and built to bring radio broadcasts from any broadcast station anywhere to people with Airvenue's @Radio receivers through the Internet and local IP infrastructure - both wired and wireless - anywhere on the globe.

It is an effective way of maintaining and promoting multinational cultures of people to people anywhere on our planet. People who are necessarily relocated to other parts of the world for economic and other reasons can now be served with radio broadcasts from their home countries. People in any one country and of any one culture can now avail themselves of the radio broadcasts of other countries and of other cultures.

@Radio receivers are available in 2 models: a desktop model and a model for use in a moving vehicle.

The sources and resources of the radio broadcasts are the radio broadcasters anywhere in the world with whom Airvenue has established a strategic alliance relationship.

The distribution of the @Radio service is through joint venture partners of Airvenue in a particular country/market.

For more information on @Radio service and/or to become a strategic alliance partner or joint venture partner for @Radio service, send email to aradio@airvenue.com.

IP Radio with Remote Control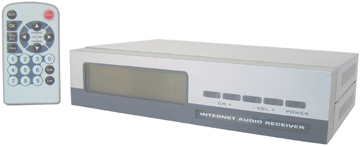 Radio Dimensions: 231 mm x 154 mm x 52 mm
© Copyright 1999 Airvenue Inc. All rights reserved.